Given the primacy of the person whom it claims wholly for Christ, and insisting on transformational education and theology while proactively addressing secularism, globalization, gender inequality and environmental degradation, the Lesotho Evangelical Church in Southern Africa undertakes a mission to engage with and revive the entire religious and socio-economic landscape.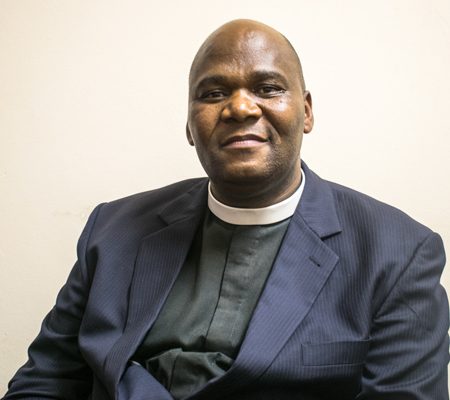 Christian Council of Lesotho
Reverend Tseliso Simeon Masemene
The Lesotho Evangelical Church in Southern Africa (LECSA) is one of Africa's oldest Protestant churches.  Founded in 1833 by missionaries from the Paris Evangelical Mission Society (PEMS), the LECSA is Lesotho's oldest denomination and today has several hundred thousand members in over 100 parishes which include hundreds of outstations.
The three original PEMS missionaries, Eugene Casalis, Thomas Arbousset and Constance Gosselin, arrived in Lesotho in June 1833 after being invited by the Chief of the Basotho, King Moshoeshoe I.  These missionaries came to Thaba-Bosiu and shortly thereafter were allocated land at Morija to establish a mission.  The name Morija comes from Mount Moriah in the bible.  This mount was the location where Abraham was asked to sacrifice his son Isaac.
In 1964, two years prior to the country being given its Independence by Great Britain, the Church of Basutoland (as the PEMS church had become known) became independent and took the name of The Lesotho Evangelical Church.  This name was eventually changed to The Lesotho Evangelical Church in Southern Africa (LECSA) in order to reflect the church's longtime presence in Gauteng Province of South Africa.
Today LECSA has 109 parishes, each with a number of outstations, which are located in 12 presbyteries throughout Lesotho and Gauteng Province.  The church has more than 100 pastors and more than 200 trained evangelists.
Since the early missionary days, the church has been a leader in a variety of ministries including education, evangelism, printing and health care.  Today the church has approximately 580 primary and secondary/high schools, two vocational training institutions, one school of nursing, a seminary and bible school, two hospitals, one health centre, a major printing works and the most important museum in the whole country.  Many of its institutions and churches are of significant historical importance.
Vision
Committed to sanctity and fullness of life, the Lesotho Evangelical Church in Southern Africa envisions and aspires for a healing (II Chronicles 7:14), well-informed and empowered community, which is able to bring about renewal, transformation and peace with justice.
Mission
Affirming anew its faith in Jesus Christ, the Lord of the Church, and accepting its commission to continue God's mission of total salvation for all of mankind (John 3:16) and creation, the Lesotho Evangelical Church in Southern Africa accepts, responds to, and participates in God's continuing mission in the world.  To this end, the Lesotho Evangelical Church in Southern Africa summarizes its mission in the following manner: